Is your business growing faster than your HR department can keep up? Tried employment agencies in the past without much success? A labour hire service may be the answer to your short or long term recruitment gaps. They can take the hassle out of finding quality, trained workers that match the skill set you need, even at short notice.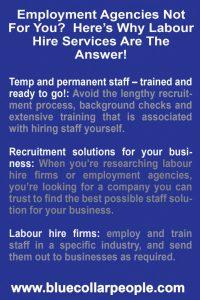 Temp and permanent staff – trained and ready to go!
Avoid the lengthy recruitment process, background checks and extensive training that is associated with hiring staff yourself. With a quality labour hire service, experienced recruiters have already screened a fleet of trained, experienced applicants who are ready to start right away.
So what's the difference between labour hire firms and employment agencies?
So, what's the difference?
Employment agencies, temping agencies and labour hire firms may all seem the same at first glance; they exist to find suitable candidates for staff vacancies. There are, however, a few significant differences between each one that are worth noting if you're trying to get the right fit for your individual business needs.
A temping agency is specifically for short term contracts. They can send a suitable worker to your premises on a set term basis.
Employment agencies act on behalf of persons looking for work, and match them up with suitable businesses to fill staff requirements. Once the employment has commenced, the person filling the role will become a paid employee of the business, and the role of the employment agency will cease.
Labour hire firms employ and train staff in a specific industry, and send them out to businesses as required. They supply both short and long term staff solutions, and the staff are employed (and paid by) the labour firm, rather than the business. This means your business can fill staff gaps fast, with fully trained personnel, saving all the time and money associated with paperwork and training.
Recruitment solutions for your business
When you're researching labour hire firms or employment agencies, you're looking for a company you can trust to find the best possible staff solution for your business. At Blue Collar People we're so confident in our recruitment specialists to get it right, every time, that we provide a guarantee to back it up. If you are unhappy with the suitability of our candidate for the role you requested, simply let us know within 8 hours of commencement and you will not be charged for that day. It's just one more way we can offer a different service to other types of employment agencies.
Like this post? Share it on Facebook!