Unemployment rate as a percentage among workforce-eligible 15-24 year olds for February 2017 (Released 23 March 2017)
WA 12.2%
Greater Perth 12.9%
Mandurah 19.1%
Perth – Inner 8.1%
Perth – NE 13.3%
Perth – NW 13.0%
Perth – SE 11.4%
Perth – SW 15.6%
Bunbury 8.0%
WA Outback 6.7%
WA Wheatbelt 18.1%
Rest of WA 9.4%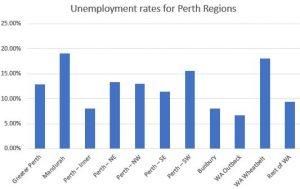 Source: Labour Market Information Portal (http://lmip.gov.au/)
And:
TIPS TO GET A JOB
Consider increasing your skills, retrain or find a training path that will lead you to a job.
If its experience your CV is lacking, put your hand up for volunteer work.
When applying for jobs, make sure you get someone to read over your CV and cover letters to check the spelling and grammar before you send it.
If you are offered an interview, do your research on the business before your appointment. Get an understanding of the business.
Clean up your social media websites (Facebook, Instagram etc.). Employers may use these sites to find out more about you.
Don't be disheartened by rejection. Competition for jobs is strong out there and usually only one person can get the job. It doesn't mean you weren't capable of doing to the job.
Source: Chamber of Commerce and Industry WA
That's good advice.  Remember with a labour hire company like Blue Collar People, we handle the entire job interview process for you.   Check out our job search list >